23/07/2006
Come Out And Play !
Le jeu en réalité mixte a le vent en poupe. L'idée est simple : prendre ce qu'il y a de bon dans le jeu vidéo et en faire un jeu en grandeur nature. Je vous laisse imaginer ce que ça donne à partir d'un Pac Man!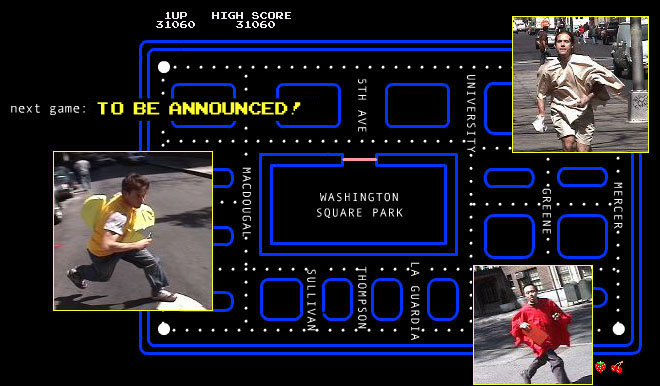 A ma connaissance, le premier festival dédié au genre aura lieu à New York en Septembre : Come Out And Play !!!
When you were a kid, with a jump rope or a piece of chalk or just your imagination? Or maybe you've heard something about city-sized games before. Maybe you stumbled across a website with a bunch of people dressed as Pac-man, a newspaper article about GPS tag in England, a photo of a giant Parcheesi piece-shaped balloon on a city street.

In the last few years, there has been an explosion of street play, from mixed-reality games that combine the virtual and real to big games that transform cities into gameboards to the time-honored traditions of stickball and scavenger hunts. Collectively, we call these big games or street games, games that transform public spaces, games that you play in the real-world.

Too often, street games are only discovered after they've finished. Come Out & Play is an opportunity for you to experience these games for yourselves.

Come Out & Play is a festival dedicated to street games. It is three days of play, talks, and celebration, all focused on street games.