20/08/2006
Emeutes Ludique = Boring Game ?
Vous souvenez vous de l'expression « émeutes ludiques » ? Parmi le gloubiboulga des expressions toute faites sensées percer a jour le mystère de la vie en France, cette expression avait réussi a se hisser assez haut dans mon top 50.

Mais ce que j'aime bien avec ces expressions parisiano-bobo-journalistico-messianiques, c'est les prendre au pied de la lettre.
Vous vous demandez comment les forces de l'ordre ont vécu les dernières émeutes en France, mais non, vraiment, recevoir des pavés sur la tête ne vous dis rien ? Alors voici la solution parfaite : Paris Riot, un mod pour le jeu Medal Of Honor.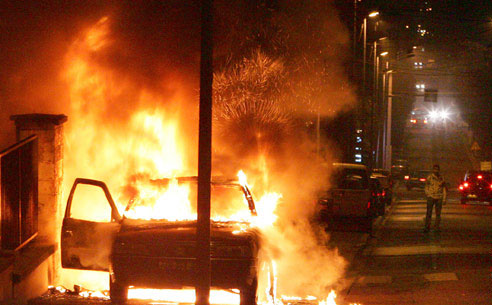 En fait, pour être honnête, je me demande pourquoi ça a pris tant de temps pour que quelqu'un tente l'expérience.
Il y avait bien eu un machinima fait à l'aide de « The Movies ». Mais le vrai jeu s'est fait attendre. C'est désormais en cours.
Reste à savoir si on peut jouer les « émeutiers ».
En attendant, la critique sociale envahi chaque jour un peu plus le média ludique, et c'est peut être aussi un signe de maturité…