30/08/2006
Skin Deformation Capture...
La technologie est souvent faite de va et viens. Une technologie à la mode devient obsolète, puis revient à la mode 10 ans plus tard. Les systèmes d'animations en sont un exemple flagrant.
A l'époque où Quake représentais le parangon du jeu vidéo, l'animation étais comparativement très simple. Une liste de mesh représentant chaque pose d'une animation était interpolée entre elles. Cette technique était incroyablement basique et rigide.
Aujourd'hui, nous sommes à l'heure de l'animation de squelette, du skinning et de la motion capture. L'idée derrière cette technologie était de ne conserver que l'information principale de l'animation, en l'occurrence la rotation des os du squelette. En réduisant l'espace du problème, le regain de souplesse permettait de faire des choses plus avancées, comme l'interpolation multiple entre animations, ou le contrôle de ragdoll.
Pourtant, la simplification pose d'autres problèmes. Par exemple, la motion capture perd énormément d'information, en particulier le déplacement de la chair sur les os. En conséquence, les animations ainsi produites, bien que plus réaliste, sont souvent un peu statique.
Mais que se passe-t-il quand on applique la motion capture non pas à un squelette, mais à un mesh reconstruit ? Les résultats sont tout bonnement épatant :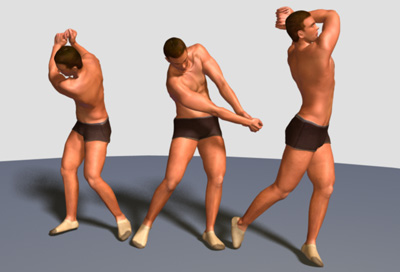 During dynamic activities, the surface of the human body moves in many subtle but visually significant ways: bending, bulging, jiggling, and stretching.

We present a technique for capturing and animating those motions using a commercial motion capture system and approximately 350 markers. Although the number of markers is significantly larger than that used in conventional motion capture, it is only a sparse representation of the true shape of the body.

We supplement this sparse sample with a detailed, actor-specific surface model. The motion of the skin can then be computed by segmenting the markers into the motion of a set of rigid parts and a residual deformation (approximated first as a quadratic transformation and then with radial basis functions).

We demonstrate the power of this approach by capturing flexing muscles, high frequency motions, and abrupt decelerations on several actors. We compare these results both to conventional motion capture and skinning and to synchronized video of the actors.
[ Sang Il Park and Jessica K. Hodgins ]

Ainsi va le cycle de la technologie. Evidemment, les mêmes problèmes se posent aujourd'hui qu'avec ceux d'hier, mais nous sommes bien mieux armés pour y faire face. Mais j'y reviendrai peut être une autre fois…